Revealing the secret to delivering high-quality virtual-collaboration experiences and increasing client ROI.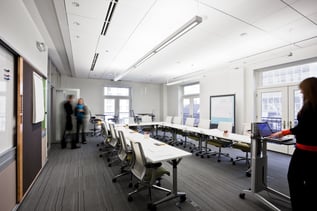 Over the last few years, the combination of lightning-fast internet connections, virtual conferencing platforms, and 21st century audio and video devices pushed many in the professional community to embrace virtual collaboration for daily operations. When COVID-19 restrictions made in-person meetings difficult or impossible to coordinate, even reluctant businesses, education institutions, and government agencies began relying on virtual meeting tools for both internal and external communications.
As workplace standards and education methods continue to evolve, with some people returning to in-person work and others remaining remote, meeting spaces and classrooms must include high-quality AV solutions to support the needs of both in-person and remote attendees. These new needs have resulted in Hybrid Flexible rooms (HyFlex). These are designed to simultaneously provide the in-person and remote collaboration capabilities that modern institutions and businesses demand.
Technology to the Rescue
When it comes to videoconferencing and audio-capture technologies, the tools and services available today are leaps and bounds better than what was available just five years ago. Manufacturers have rallied to introduce camera and microphone innovations at breakneck speed, with options now available for any room size or project budget. Solutions range from stationary cameras and tabletop conferencing phones to 4K PTZ cameras with AI-based people tracking and invisible beamforming microphone arrays designed to look like ceiling tiles.
Along with the microphones, cameras, digital displays, and speakers, digital signal processors (DSPs) form an important part of a professional-grade solution. Offering features such as acoustic echo cancellation, noise cancellation, and feedback control, DSPs help improve audio clarity and ensure every remote learner can follow along just as if they were sitting in the front row.
Besides specifications like resolution and pickup distance, the most important facet of the individual components is that they work together seamlessly, ensuring the system is easy to use and doesn't require significant training or troubleshooting. Integration firms can deliver reliable, robust videoconferencing and collaboration systems by partnering with respected manufacturers and by designing with the user experience in mind. Every room is different, of course. Some clients require BYOD capabilities and others rely on in-room PCs to run meeting and educational software. Integrators must be mindful of these differences.
Intelligent Solutions for Integrators
Advanced products can make an integrator's job easier, faster, and more profitable. These solutions include beamforming microphone arrays that have onboard multi-channel amplifiers, among other advanced signal processing. With tools like these, integrators can set up more rooms in less time and simplify wiring schematics while, at the same time, reducing both the total number of components and the complexity of ongoing system maintenance.
A HyFlex room generally includes a minimum of two cameras — one to capture closeups of the presenter and another to capture the entire room. The latest systems offer automatic switching and focusing between multiple cameras, based on who is currently speaking. This can help create more immersive sessions and allow presenters to focus on the information they are conveying, without stressing over technological concerns.
Clients that have internal IT or AV staff may also consider integrating with a cloud-based AV management software platform, thereby enabling remote system control and access. That way, issues or changes can be addressed anytime, from anywhere.
Flexible and Adaptable Technologies
Looking forward, it's likely that flexible and adaptable office technologies will provide the greatest ROI and continue to influence how leaders, staff, educators, and students communicate and learn. Additionally, sleek, unobtrusive solutions such as ceiling- or wall-mounted speakers, as well as ceiling tile microphones, will enable rooms to be converted easily for non-meeting use cases. This will allow organizations to optimize space utilization and potentially reduce the need for new rooms and construction.
As protocols continue to change and new components or software solutions are introduced, clients will expect their integrator partners to stay up to date and have the ability to answer questions about new capabilities.
Remote-collaboration tools are constantly evolving. By utilizing the latest technologies, AV integrators can help institutions improve their communications and ensure every meeting space is reliable and delivers high-quality virtual-collaboration experiences, while significantly increasing client ROI.