Hear the phrase workplace safety and the first things that come to mind are probably hard hats and emergency procedures, not microphones and audio processors. But those are precisely the products the International Safety Training Center (ISTC) is using to keep employees of 76 refining and chemical plants in southern Texas safe.
Life Saving AV in Action
According to the Occupational Safety and Health Administration (OSHA), more than 4.1 million workers suffer a serious job-related injury every year. Formal safety training, however, can reduce workplace injury and illness by up to 60 percent. ISTC conducts just such trainings, but when they opened a new 6,800 square foot facility in Baytown, Texas—complete with a 90-seat lecture theater—they were faced with a problem. Without the right audio-visual conferencing system, the lecturer's vital information would be hard to hear, and critical questions from the students could be difficult for the teacher and other participants to understand. And a training that people can't hear and understand has little chance of saving a life or preventing an injury.
To make sure they had the right AV tools to meet their precise audio needs, ISTC turned to local integrator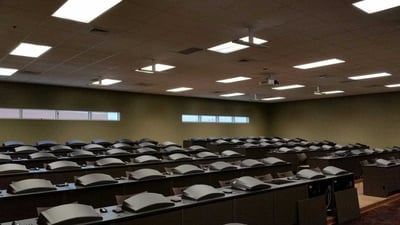 Discovery IT Technologies, and Discovery IT turned to ClearOne.
ISTC training sessions are interactive with a high level of audience participation. Discovery IT installed 12 of ClearOne's Beamforming Microphone Arrays, which both amplify the lecturer and use patented echo cancellation technology to ensure that questions from participants can be heard and understood around the large lecture hall. Beamforming microphones also eliminate a common problem with conventional microphones—clutter in front of participants that can distract from their learning. In the case of ISTC, the microphone array was installed in the ceiling, but beamforming microphone arrays can also be mounted on table tops and even under video screens. Discovery IT also installed nine CONVERGE® Pro audio signal processors around the lecture hall. The result was clear and crisp audio that maximizes successful delivery of the life-saving training ISTC provides.
"ClearOne had the most highly integrated product, it didn't feel like we were having to over specify microphones to get the coverage we needed," said Adam Fadhli of Discovery IT. "It was an integrated, modular, clean approach and if a product is easy to install and configure, it reduces the risk of project failure. We felt the ClearOne solution guaranteed us the highest chance of project success, and we're delighted with the results."
Save Your Business with the Right AV Solution
Are you looking for an integrated, flexible audio solution? The price of the industry-standard CONVERGE Pro DSP platform has just been reduced, and there has never been a better time to explore what ClearOne has to offer. Learn more today.