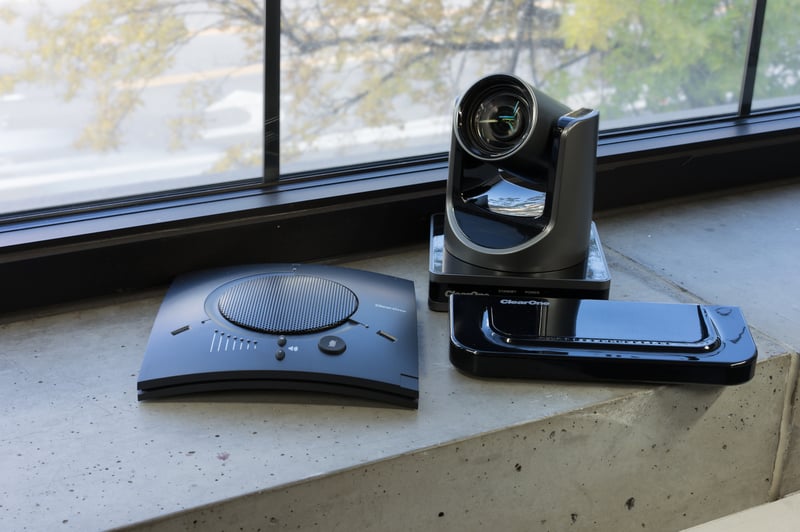 Today's workplace is no longer a single place. Thanks to growth in telecommuting, 3.2 million US employees work outside the office. Flexible work locations are particularly important to millennials, who represent the largest group in today's workforce—73 percent of millennials say they would prefer to work from home or another location that is a better match for their work style.

Even as work preferences change, the work that employees and organizations are trying to accomplish stays mostly the same. But the right tools can enable employees to get more work done faster, which means accelerated product development cycles, quicker time to market, faster customer support, increased innovation and, finally, increased revenue. Team collaboration, whether those teams are in the same room or spread across the world, is increasingly critical to getting work done.

So, what do employees need to collaborate? For starters, make sure they can easily join meetings and video calls from home, coffee shops, airports, or anywhere else they might be. And they don't just need to connect. Make sure employees can participate fully in the meeting or video call regardless of the device they are using. And finally—but no less importantly—make sure all the participants can see and hear everyone else clearly.

Keep reading for ideas about how to improve team collaboration.
Making Everyone Seen and Heard
According to Salesforce, 86 percent of survey respondents cite a lack of collaboration and ineffective communication as the cause of workplace failures. Those failures impact your bottom line when projects are delivered late or product quality suffers. But what causes this ineffective communication?

One culprit is the wrong camera for your space. In smaller rooms, for example, employees who prefer to avoid screen time can easily sit close to a mounted camera with a narrow field of view and stay out of sight. Invest in a camera with a wide field of view, however, and everyone can see everyone no matter where they are sitting.

Limited microphone pickup coverage can also contribute to a break down in effective communication. Microphones built into laptops or cameras don't provide 360-degree coverage. So, whoever is sitting closest to the microphone is the loudest even if they don't have anything useful to say, while the person with the $1,000,000 idea—sitting across the table or at the back of the room—can't be heard at all. Investing in a microphone that has a 360-degree pickup range or beamforming microphone arrays can capture all audio in the meeting space, not just the people sitting closest to the microphone.
Facilitating Content Sharing
Getting everyone seen and heard on the same call or video conference is a critical first step, but once everyone is connected they still must get something done—all that talking and listening should ultimately yield an actual product. The best way to do that is for team members to see and update content together in real-time. If your team is only able to talk about the content on a phone call and then hope they still remember everything that was discussed by the time they get back to their desks, the best ideas and productivity can easily get lost. And that means the faster product development and greater innovation you are looking for will get lost, too. Any team collaboration solution you choose should include the ability to share and store content and allow team members to access and edit that content from anywhere.
Connecting Employees Wherever They Are
Just knowing teams need to connect anytime from anywhere doesn't make it easy. What happens when employees are connecting from different kinds of personal devices? What happens when your team is scattered across multiple time zones? Or when they need ad hoc, less formal ways to communicate and connect to each other in addition to more formal meetings and video conferences? What tools can you provide to help them collaborate in the most efficient and productive way?
With the COLLABORATE® Versa line of collaboration products, employees can feel like they are in the same room no matter where they are. Each product is a complete room solution with a camera, microphone, and speaker tailored to the size of your room.
The new COLLABORATE Versa 50 comes with a UNITE® 50 EPTZ camera with a 120-degree wide-angle field-of-view that makes it perfect for small meeting rooms and huddle spaces where participants are sitting closer to the camera. This solution also comes with one CHAT® 150 speakerphone for a clear audioconferencing experience. The final piece of the solution is a central hub where all the components—including displays and personal devices such as laptops—can plug in via USB connection.
For larger meeting rooms, the COLLABORATE Versa 150 features a UNITE 150 PTZ camera with 12x optical zoom to capture all the participants even in a bigger space. It also comes with a CHAT 150 speakerphone and central connection hub.
The COLLABORATE Versa Pro products add another dimension to BYOD meetings with a professional-quality AV room system that includes a DSP mixer and a ceiling mounted mic array. Solutions are tailored to small collaboration spaces and mid-sized meeting rooms.
Each COLLABORATE Versa product comes with a 90-day trial of COLLABORATE® Space, an audio and video conferencing application that includes all the functionality your online meetings need and can run on any device.
COLLABORATE Space includes cloud-based storage for all the content your collaboration creates, including agendas and meeting notes, messages between team members, whiteboards, and meeting recordings. Users can create searchable public and private channels to organize content, and that content can be accessed from any device including laptops, desktops and mobile phones.

All that effective communication and collaboration makes for happier employees, and that makes for happier business outcomes, too. Seventy percent of the American workforce reports feeling disengaged, and the cost of those disengaged workers is more than $350 billion a year. On the other hand, businesses with effective communication are 50 percent more likely to have lower employee turnover.
Energize Your Collaboration Today
Whether your teams are near or far, or your meeting spaces are big or small, there is a collaboration tool that can be tailored to your needs and objectives. Learn more about COLLABORATE Space and the Versa product line, and find the collaboration solution that's best for you.