We see h.264 used in so many applications.
This is one of the most incredible things about ClearOne's ViewPro AV over IP solution. ViewPro can decode streams that some other device encodes, or native H.264/265 devices like IP cameras. Or, send a stream to ViewPro directly from a PC/Mac, iOS or android device or others.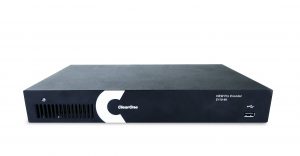 Same is true at the other end, you don't need one of our ViewPro decoders, simple devices like an AppleTV, or an IPTV set-top box can decode our streams. Recording or playback on an NVR (network video recorder) is easy, watching streams on a PC/Mac/iOS/Android, etc is easy too.
It's the beauty of being standards based. But h.264 isn't known for its high quality streaming, or so we are conditioned to think. H.264 and 265 High Profile, in both 4:2:0 and 4:4:4 variants are what we use in ViewPro. With High Profile h.264 compression, you would be hard pressed to notice any difference in signal or image quality, with fast motion video, or fine text like spreadsheets. Whatever the content, High Profile, h.264 encoding and decoding will give you an output that looks just as good as your original content.
High Profile H.264 is the codec used on BluRay discs, and most often in broadcast/Cable TV, it is extremely powerful in its compression capability, and the key is, within ViewPro we put the priority on low latency, latency that comes extremely close to some of the other AV over IP products that require 10 times, or even 100 times the bandwidth of ViewPro.
When you come across a project that needs long-distance signal distribution, and/or a large number of sources or displays, you really should give ViewPro a chance. Once you see everything ViewPro is capable of, I'm sure you will agree it is ideally suited for the Pro A/V community. And we haven't even discussed advanced features like TRUE VideoWall processing. We can save that for next time.
Please share your comments below and if you have any questions on how VIEW Pro streaming encoders and decoders can integrate into your business, contact us today!