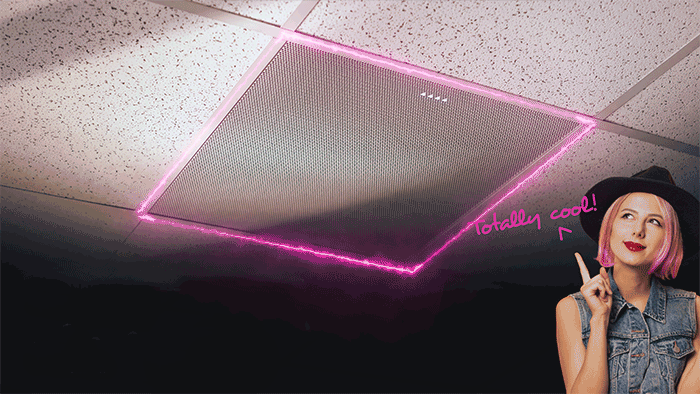 If you want to go on a diet, there are plenty of options from paleo to keto to Whole 30. Or you could just keep eating what you want and buy new pants. But what if it's your room system design, not your waistline, that needs trimming? What's the best diet to shed unwanted complexity, components, and cost when designing rooms with beamforming mic arrays?
How Beamforming Mic Arrays Pack on the 'Pounds'
Beamforming mic arrays not only look great, they provide such rich, clear audio quality that they're becoming the mic of choice for many installations. Beamformers can switch their active beams in real-time to "follow" the person speaking, producing consistent, quality audio no matter where they are in room, or in relation to the mic array itself.

But that benefit comes with some extra weight. For starters, some beamforming microphone arrays require multiple DSP channels to provide AEC and signal processing—as many as 8 channels. If you have other mic inputs, you'll need additional DSP resources, increasing the size, complexity, and cost of the design.

Connecting most beamforming mic arrays to power and the network (AES67 or Dante) typically requires two connection points—a cable run from the DSP mixer to the PoE switch and then from the switch to the mic. One beamforming mic array can eat up to 8 network channels. And, if the mic array doesn't have a built-in power amp, you'll need to add that too.

The clarity and aesthetics delivered by beamforming mic arrays shouldn't be an indulgence that bloats your room systems with complexity and higher price tags. Trim down your designs with the next big thing—the BMA-CT diet.
Put Your Room Systems on the BMA-CT Diet
Unlike Keto, the BMA-CT plan is easy to follow—eliminate extra DSP resources, drop the power amp, avoid PoE switches, and stop consuming network channels. We don't need FDA approval to tell you that 100% of integrators and consultants who follow the BMA-CT diet will experience the following results:
System designs are less complex.
Installations are easier and simpler.
Less rack space is consumed.
Programming is easier and quicker.
System cost is significantly lower.
Need more motivation? Check out these before and after system diagrams.
Before BMA-CT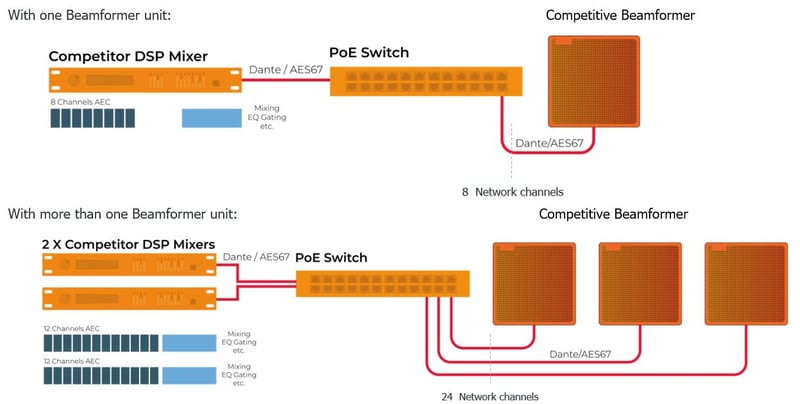 After BMA-CT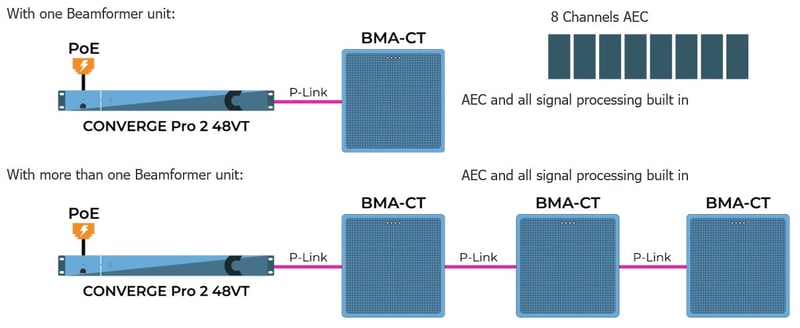 Now that's a stunning transformation. Learn about the Beamforming Mic Array – Ceiling Tile from ClearOne.