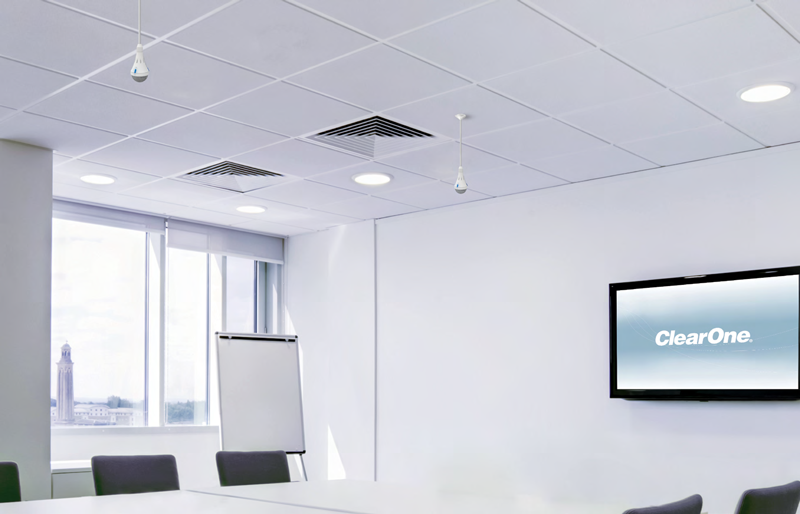 It's a contest you've seen before. Architects, interior designers, and customers end up in the corner for ceiling mics, while system designers and IT pros often land on team tabletop. The battle lines are drawn between form and function. With today's technological advances, it's time to revisit the question—which microphone is best?
How Tabletop Mics Stack Up
Because tabletop mics are placed near the people talking, their audio quality has been hard to beat. But, over the years, the list of drawbacks attributed to various types of tabletop mics has grown longer.
Short gooseneck or stand-mounted microphones can be visually as well as physically intrusive, so people move them because they need the space, negatively impacting audio pickup.
Flat boundary and button mics are easy to cover up with documents or laptops. The far end then hears rustling papers and the potato chip bag someone just opened, making it hard to hear voices clearly.
Tabletop means cables. And cable means drilling holes in tables. If we're talking about an expensive table, the customer won't be excited about this option. And, if the table is made of metal, concrete or glass, it isn't an option at all.
Introducing wireless microphones to address the cabling issue creates new problems—they are easily misplaced, and customers often forget to recharge them.
Multipurpose rooms really throw a wrench into any design that includes tabletop mics, particularly when divided by partitions. It can be difficult to manage wired table microphones for this type of room when the number and placement of tables and chairs change based on how the room is divided. And wireless microphones may get lost if they are constantly being moved around for different room configurations.
How Ceiling Mics Stack Up
The idea that ceiling mics don't perform as well as tabletop mics is an outdated misconception. When they are installed in a way that provides proper room coverage, they easily pick up all the voices in any size room and contribute to a high-quality audio experience. Ceiling mics also resolve many of the issues encountered with tabletop mics.
No one's going to move or cover them—not even the most determined end user.
There's no need to drill holes in tables or take on cable management.
They are stylish and unobtrusive—adding to the room aesthetic.
They are easy to install, especially during the construction phase.
In addition to ceiling mic arrays, there are now beamforming ceiling mic arrays. Beamforming mics excel at detecting sound direction. A beamforming mic array costs more than a standard ceiling mic array but they are more technologically sophisticated. It's important to note that a ceiling mic is likely to replace multiple tabletop mics—so they're more cost-efficient than they may seem at first glance of the price tag.
In the throwdown between tabletop mics and ceiling mics, for many installations, ceiling mics have a clear advantage.
Selecting a Winning Ceiling Mic
There are many choices when it comes to ceiling mics—pendant mics, embedded, ceiling tile, etc. Often a feature comparison plus your knowledge of the room can help you make a final decision.
ClearOne offers ceiling mics including beamforming mic arrays. Take a look at some of your options:


ClearOne Ceiling Microphone Arrays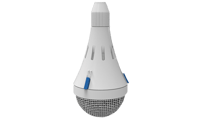 These tri-element arrays for conferencing and sound reinforcement applications offer rich sounds and come in a variety of versions:


ClearOne Beamforming Mics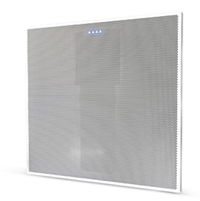 These professional-grade beamforming arrays offer advanced technology for the highest-quality audio capture:
The Beamforming Microphone Array features beamforming and adaptive steering technology (think of it as smart switching) and replaces 10 to 12 traditional microphones.
The Beamforming Microphone Array 2 offers the most advanced acoustic echo cancellation and noise cancellation technology for conferencing applications.
The Beamforming Microphone Array Ceiling Tile blends in perfectly with drop ceilings and reduces cost and complexity.

Find Solutions That Work Better Together
ClearOne creates higher-quality audio solutions thanks to their engineering experience, as well as an understanding of how conferencing and communication solutions are used in real-life applications.
To learn more, talk to a ClearOne sales rep or request a demo.
Audinate® and Dante® are registered trademarks of Audinate Pty Ltd.