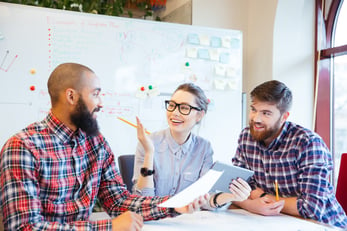 Top challenges facing end customers in 2022
PART II of III
As part of today's hybrid work world, many end customer organizations have developed their preferred cloud-based collaboration services (i.e., COLLABORATE® Space, Microsoft® Teams, WebEx™, Zoom™ and others). But once the service is selected, important decisions need to made by organizations in selecting collaboration solutions that support Bring Your Own Devices (BYOD) versus those that support dedicated room systems. Ultimately, end customers want flexibility which ultimately helps their employees join meetings anywhere and anytime more easily and with confidence.
Another top challenge that end customers are faced with are daunting decisions on the focus and purpose of investments in capital equipment for their future AV needs. Do end customers make investments that bring tangible and measurable improvements for an enhanced employee conferencing experience? Or do they just incrementally add to their existing infrastructure, extending the service of potentially outdated solutions and quality?
When end-customers are ready to invest for an upgrade, they want and deserve more choices and selections, so they are confident that they have surveyed all market options available. For their investment, they need the latest and greatest innovative solutions with more features, better performance, and without price increases. These challenges can be solved by knowledgeable and customer-oriented resellers who are not afraid to stay on top of the market.
In part III we'll address the technology of greatest value to AV customers in 2022