Corporate AV has become ubiquitous in almost every setting, as digital devices seem to be constantly in-hand, and the expectations of immediacy and flexibility in sharing information is driving our business decisions more than ever. Meetings with remote participants have evolved not only to include video with an unfailing audio foundation; but also the flexibility to share content from multiple people— and multiple devices —with an assumed ease-of-use.
Flexible Cloud and Room systems are the key to true adoption, and efficient remote meetings in which key decisions can be made. Users require the full gamut of media collaboration from rich video and web conferencing Cloud-only services, to total solutions for huddle spaces and conference rooms that also include Cloud plus multi-user wireless presentation, recording and streaming, traditional video conferencing— all with audio conferencing & PTZ camera endpoints. Solutions for "bring-your-own familiar app" are a new necessity for true adoption of conferencing spaces.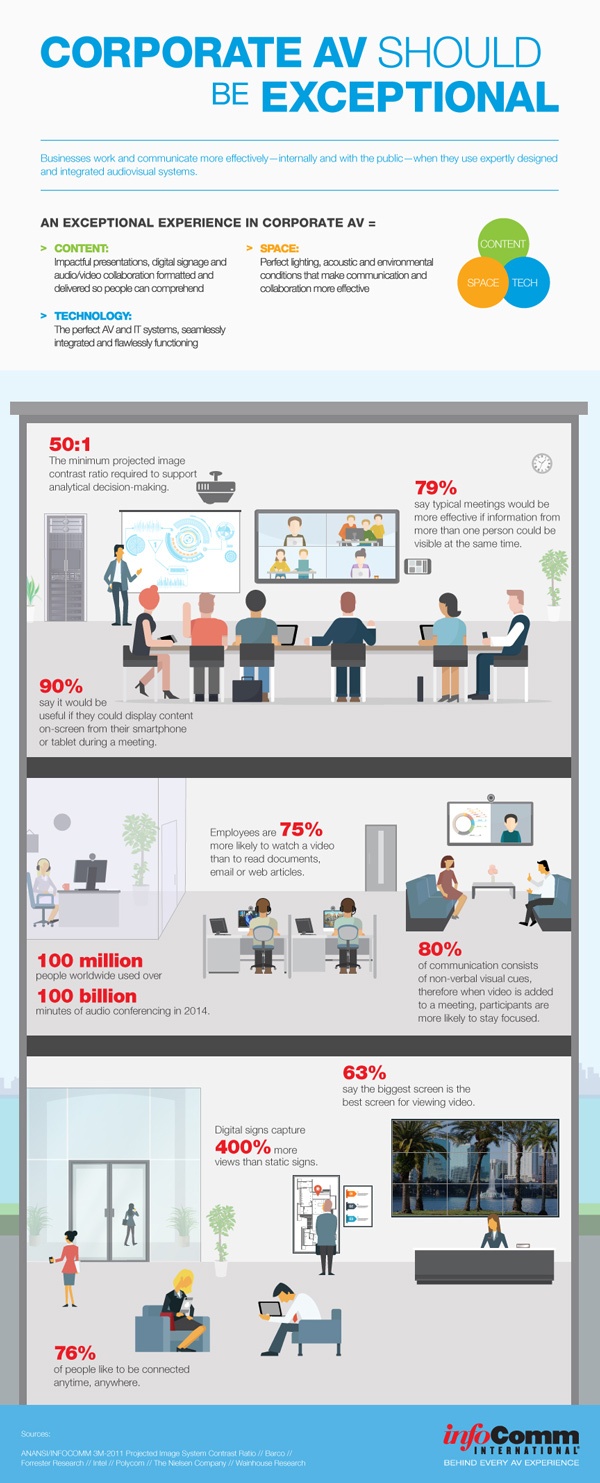 For conference spaces to truly be used to their full potential, systems need to include Cloud access, as well as flexible and intuitive room systems with built-in Cloud collaboration; the foundation of ClearOne's COLLABORATE® Pro and Spontania™. With true ease-of-use and flexibility, conference spaces become busy and utilized for small ad-hoc meetings and large, formal meetings alike. User needs are satisfied- from the ability to share content from more than one person simultaneously, to more flexibility for content sharing with smartphones and tablets. The ClearOne lineup delivers a host of features that are right-sized for any collaboration space or need.
This InfoComm International infographic (used with permission) hits some key points in this burgeoning age of video collaboration, the need for flexible systems that can handle audio conferencing, traditional video conferencing, Cloud video collaboration with familiar web applications, BYOD, wireless presentation, and even the needs for recording and streaming. We've become so attuned to video, that we stay more focused when non-verbal visual cues are present in meetings – with a higher likelihood of watching video or visual content than reading documents.