Part 2: Raining Cost-Savings: How the Cloud Can Reduce Costs for AV Practitioners and Their Clients
Our last Guide to the Cloud blog post (Part 1 of 3) explained how the cloud could bring better overall efficiency, fewer physical site visits, and remote insights to AV practitioners. However, companies considering implementing remote AV system management are likely viewing the decision from a business perspective. When considering the integration of any new technology, business-minded decision-makers must ask themselves questions like "How will this save my company money?" and "How will this increase overall earnings?" Fortunately, managing AV systems through the cloud drives costs down and profits up. Here's how: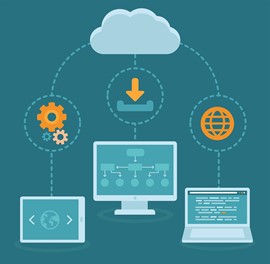 Requiring only the internet to connect cloud-based remote network management software to an AV/IT system enables a cloud-based management software, like ClearOne's CONVERGENCE® Cloud AV Manager, to be available everywhere: including work, home and mobile devices, at any time. This dramatically reduces transaction/travel costs for integrators who are used to traveling back and forth to multiple physical sites. Rather than regularly moving through multiple offices, campuses, etc., trying to fix solutions or maintain AV systems, practitioners employing cloud management can maintain, control, and manage systems from one remote location and any device.


In addition, Management as a Service (MaaS) enables recurring revenue opportunities. An integrator may charge more competitively for regular maintenance contracts, attracting more customers.


The information density at the fingertips of someone using a cloud-based remote network management solution also reduces information costs and raises service quality. Information processing, storage, and communication become automatic through the cloud rather than manual, which leads to significantly reduced expenses. This autonomy also significantly improves information currency, accuracy, and timeliness.


For example, a multi-tenant, multi-hub cloud service allows an integrator to service all their clients' devices at once yet, tailored to their needs. This curtails maintenance costs and improves customer satisfaction. Additionally, through superior cloud platforms like CONVERGENCE Cloud AV Manager, AV practitioners may also conveniently track client tenant usage for invoicing and optional auto-payment reminders, which improves revenue regularity.

Furthermore, when operating through a cloud service, an integrator need not concern themself with the hardware and software costs, many of the technical aspects of setting up a public web server and maintaining it, the telecommunications links, and the requisite staffing needs. This leads to a cheaper and overall more efficient system.

While all AV Cloud management software programs are capable of reducing expenses, ClearOne's CONVERGENCE Cloud AV Manager rises above the competition. This intelligent software automatically discovers devices and their connections quickly to promptly get users up and running - cutting down setup time and facilitating system audits. CONVERGENCE Cloud AV Manager users do not need to connect each device or DSP mixer to the cloud individually. Additionally, the software facilitates user support with built-in video, audio, and chat tools for real-time communications. This allows convenient, personal, and even virtual face-to-face interaction to better resolve user issues.
The ClearOne CONVERGENCE Cloud AV Manager remote management software solution will be available for free until 2023. To learn more about the CONVERGENCE Cloud AV Manager software, click here.