Part 1: How the Cloud Enables AV Practitioners to Do Their Jobs Remotely
As a result of the Covid-19 pandemic, the need for new remote work technology in the AV/IT industry has never been more critical. Nevertheless, while AV/IT manufacturers have developed innovative and groundbreaking products and software to connect workers, students, families, etc., many AV practitioners are still integrating, managing and operating these systems fully in person.
The convergence of AV and IT cloud-managed services has been on the horizon in the industry for many years, but decision-makers have been reluctant in regard to full-scale implementation.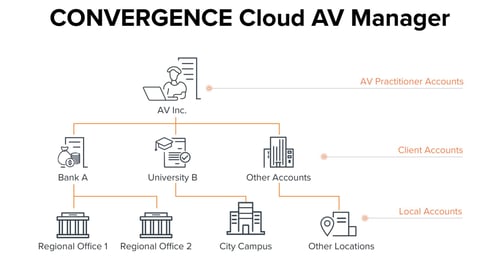 However, the Covid-19 pandemic has shined an additional spotlight on the need for well-established remote work in general. Now that many AV practitioners have worked remotely for just about two years now, remote work is no longer just growing, but it has become the expectation for leading companies.
That makes technology that allows workers to do so, such as cloud services, of greater use and importance.
The cloud has provided an ideal solution to this need across multiple industries and can do the same for AV/IT. Cloud-based remote network management software, like the ClearOne CONVERGENCE® Cloud AV Manager, allows users to monitor, control, and audit audio and video products and services from any location worldwide. Since the reach of the cloud service extends across national boundaries around the world, its usage dramatically increases an integrator's market space. In addition, cloud-based AV/IT software solutions offer instant and remote interactivity between integrators and their clients, which dynamically adjusts the customer experience and makes them co-participants in issue resolution and delivering IT communication solutions.
Cloud-based remote network management software gives integrators awareness of problems within the AV/IT system from any place in the world. It can provide on-the-spot analysis on each issue via email and SMS alerts, dashboard summary information and targeted device listing - allowing AV practitioners to quickly assess their client systems' situation and increasing AV system uptime and meeting readiness. In addition, it also provides an AV practitioner the ability to resolve any issues that arise remotely. Using cloud-based software, routine tasks such as firmware updates, restart, configuration adjustments, and security enhancements can be completed from miles away, resulting in a potentially significant decrease in physical site visits.
Those who do not adopt cloud-based remote management run the risk of being left behind by other integrators who take advantage of the technology, as they may not be as profitable, and maintenance contracts may be more costly.
For AV practitioners and companies concentrated on the future, the journey to the cloud is in full motion. Further, ClearOne is working with them side-by-side to assist every step of the way.
ClearOne's CONVERGENCE Cloud AV Manager empowers integrators and enterprise-level users to remotely manage unlimited ClearOne systems across multiple rooms, multiple buildings and even across continents. Integrators using CONVERGENCE Cloud AV Manager can update the passwords for all a system's devices at once, back up configuration files, set up push alerts for specific system issues and have immediate insight into all connected installations at a moment's notice and from anywhere in the world.
The CONVERGENCE Cloud AV Manager also features built-in video and audio communication, so AV practitioners do not need to switch applications if they want to call a colleague at a remote site to discuss support issues.
The ClearOne CONVERGENCE Cloud AV Manager remote management software solution will be available for free until 2023. To learn more about the CONVERGENCE Cloud AV Manager software, click here.