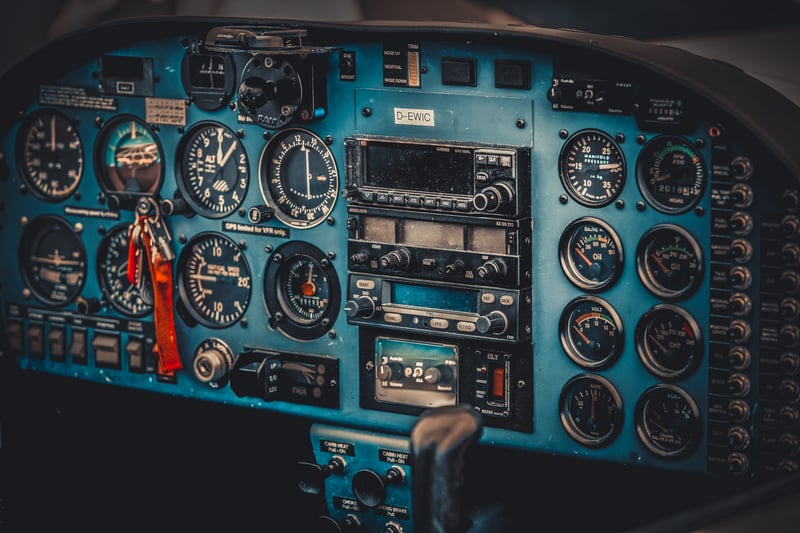 What can audio visual professionals learn from military and commercial airline pilots? That the secret to managing high-pressure, high-stakes jobs might be using a checklist.

In the mid 1930s, after the Flying Fortress crashed, military leaders studied flight incidents and concluded, "Pilots were not screwing up because they were incompetent. They were screwing up because they were very good, so good that they were completely sure they knew what they were doing. They didn't feel the need to slow down, go over the basics."

Granted, audio visual work isn't one mistake away from catastrophe, but configuring and commissioning an AV system is complex. So, if you want to minimize errors like pilots do, follow a checklist—even if you've completed the task hundreds of times.
Making Audio Intelligent, One Checklist at a Time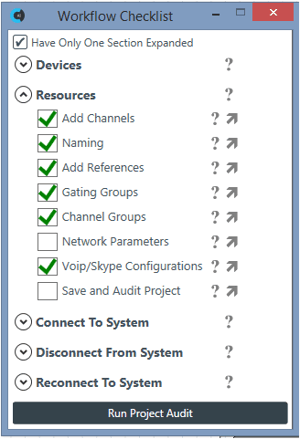 Not only does following a system configuration checklist help you eliminate errors, it makes you more efficient by saving you time. The new CONSOLE® AI (Audio Intelligent) configuration software for CONVERGE® DSP products features a Workflow Checklist that guides you as you build your system, so you never miss a step.

The workflow moves you from Device set up where you add DSP and P-Link devices to Resources where you add and name channels, add references, create gating and channel groups, set network parameters, and configuring required VoIP settings. Quick links take you from the checklist task to the section in the software where you complete the task. You can click the question mark icon to learn more about the setting.
When you've completed the checklist, you can run a project audit to check your design and reports errors and warnings for any potential problems.
CONSOLE AI has several additional new features that will help streamline your designs and increase efficiency including:
New visual language elements include drag-and-drop, boundary boxes, mixer blocks, and custom routing lines

Audio channel group creation

Simple and Advanced design modes

Inline renaming of channels and channel groups

C-Link capacity increased to 150 channels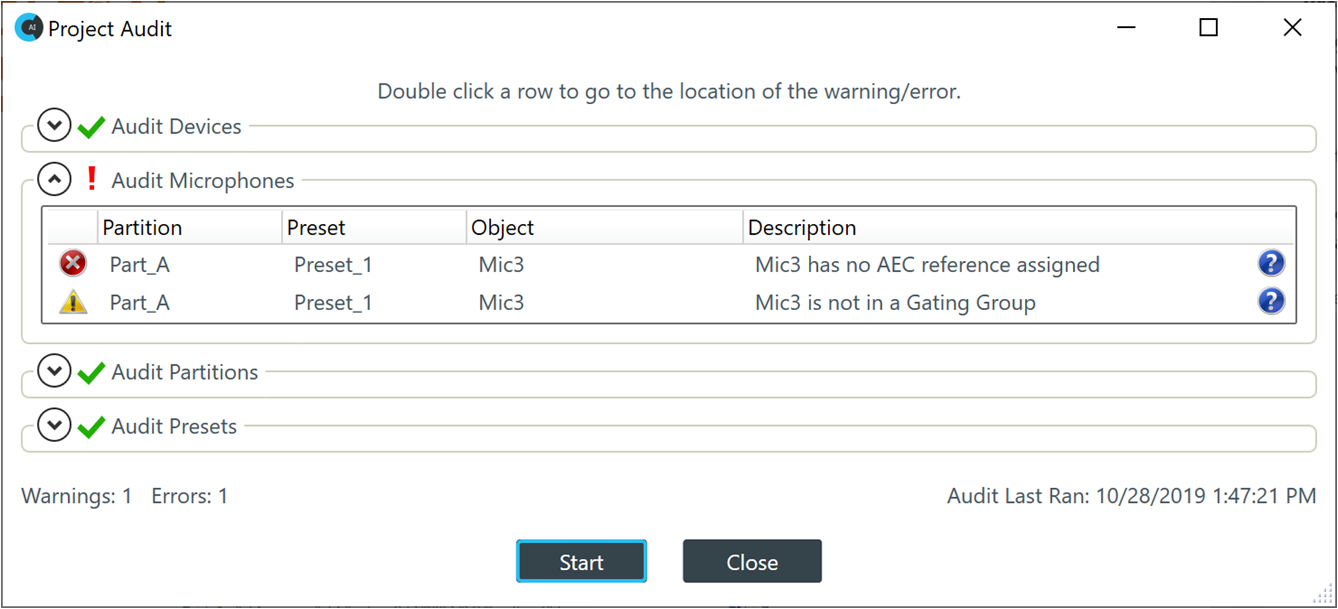 To learn more, visit the product page and download the data sheet.
What You Can't See Can Hurt You

A more efficient, error-free configuration process is only half the battle. Once everything is up and running, you also need to monitor and manage the health of your system. No one enjoys the Monday morning surprise where they find out 15 minutes before an important meeting that the room has been offline all weekend.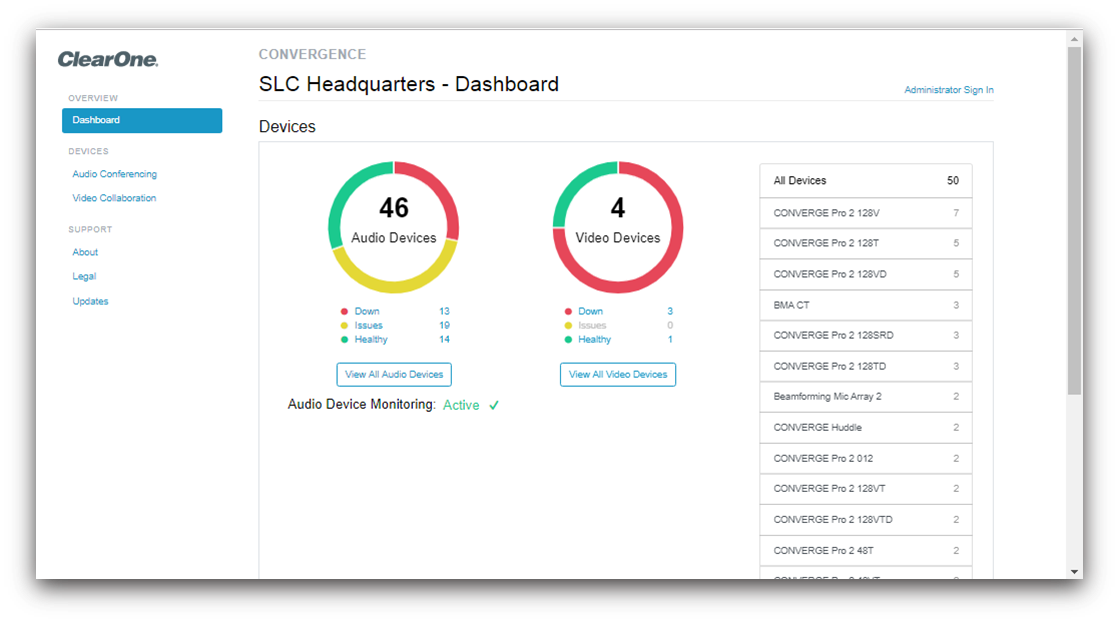 That's why ClearOne is introducing CONVERGENCE™ AV Network Manager software, a unified AV network management platform to monitor, control, and audit ClearOne Pro Audio and Video products and services. From a single dashboard view you can see:
All CONVERGE® Pro 2
CONVERGE Huddle
BMA CT
Beamforming Mic Array 2 devices
USB Expanders
GPIO Expanders
Bluetooth Expanders
DIALOG 20 devices
You can also access all COLLABORATE Space licenses and COLLABORATE Live codecs.

At the touch of your fingertips you have remote, real-time system access and all-inclusive dashboard views. CONVERGENCE was built with unlimited scalability to support organizations of any size and provides a powerful and elegant user interface on any browser for desktop and mobile use.



To learn more, visit the product page and download the data sheet.
Talk to ClearOne
Configuring and Managing a unified collaboration environment just got a lot easier with CONSOLE AI and CONVERGENCE. Talk to your regional sales manager about downloading these free tools.