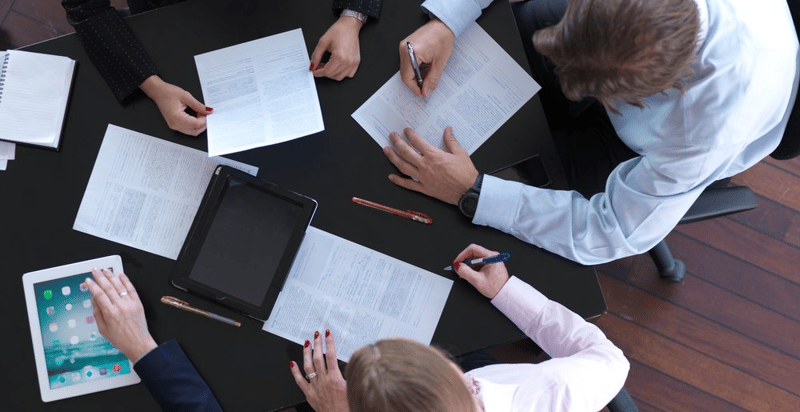 The team huddle is nothing new since the workplace has long been the setting for conferences, confabs, consultations, and the impromptu tête-à-tête.

The huddle room itself is no longer a new concept, but it has been evolving to better meet the needs of the modern employee. The technologies of today's huddle rooms should feature increased capabilities and the improved ability to connect quickly and easily to user devices. Here's what you should consider building or updating these popular spaces.
The Features of the Modern Huddle Room
Most huddle rooms are simply small conference rooms—for two to six people—outfitted with audio, video, and other collaboration capabilities. They're designed to provide employees with a space that supports flexibility and spontaneity while ensuring clear communication. The spaces are often used by small groups for quick collaboration with in-office or remote colleagues or partners.

It usually costs less to build a huddle room than a full-size conference room, and many companies discovered that employees were using large rooms for meetings with just a few participants. As huddle rooms grow in popularity, manufacturers have discovered they could design solutions specifically for these spaces. These solutions often include a combination of multiple capabilities, including video conferencing, content sharing, interactive whiteboarding, and others.

Consider building a huddle room any time you know large groups won't be meeting there. You'll save money on real estate, as well as audio and video solutions necessary for larger spaces.
Today's Huddle Room Design Considerations
Huddle rooms are simple by definition, but there isn't necessarily a one-size-fits-all huddle room design that suits the needs of every organization. Consider:

What is the physical size and shape of your space?
How many users will usually occupy the room?
Will participants be on-site or a mix of on-site and remote?
What will the primary use be? (Audio calls, video calls, content sharing, etc.)
Whether you're installing huddle room solutions or partnering with a professional, the answers to those questions can help guide you. Then you can focus on choosing the technology for the room.
Narrowing Down Your Huddle Room Options
With so many choices of huddle room technology, it's essential to look for solutions that are intuitive. Since meetings are often impromptu, users don't have time to waste figuring out how to use them. For long-term success, choose solutions that scale and can be standardized using complementary products in larger spaces. That way, users are familiar with the features, making solutions easy to use in any of your work spaces.

The ClearOne CONVERGE® Huddle is one solution designed specifically for huddle rooms. It's an audio DSP mixer that easily connects to ClearOne or third-party peripheral devices like microphones, speakers, cameras, and displays to support all the communication and collaboration needs of a huddle room. Other CONVERGE products can be used in other kinds of spaces to provide a uniform experience across your organization.

Solutions like the ClearOne COLLABORATE® Live 200 can be paired with a display to provide a great huddle room solution. It includes web conferencing capabilities and a camera with an ultra wide-angle view for small spaces.

With solutions made with huddle rooms in mind, you can keep up with the ways modern employees want to work and collaborate.