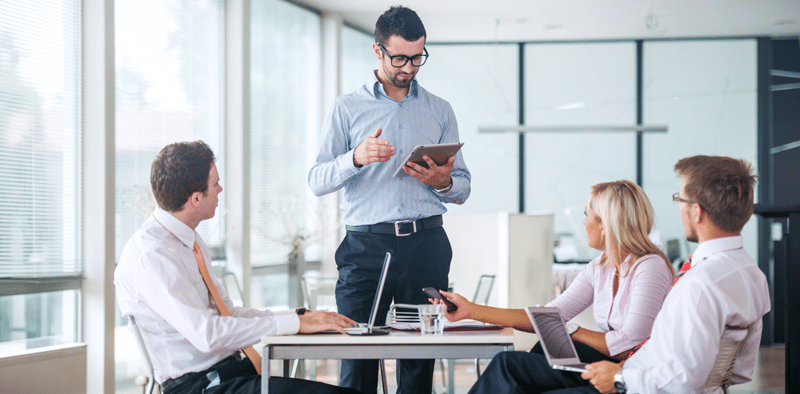 Effective collaboration used to just involve the teams in your office. But in today's global workplaces, collaboration requires connecting hundreds of users with unified messaging, calling, and meetings. When companies try to collaborate without the right tools to share and store content, however, the bottom line can suffer. A lack of effective tools to share and store content and information can cut into a company's bottom line. For example, the cost of not being able to find the right information at the right time can cost an organization $3,300 per employee. A lack of modern collaboration tools can also cut into employee satisfaction, recruitment, and retention. Among millennial job seekers, 68 percent say the option to work remotely would increase their interest in a specific employer. But only 38 percent of millennials feel they have the "latest and greatest" tools needed to do their jobs effectively. One problem is that, while most workplaces are organized around teams and projects, many available collaboration tools are still organized around meetings. That means that documents, minutes, and recordings created in a meeting about a specific project end up in one place, while all the other documents, emails, and instant messages related to that project end up in any number of other places, including email inboxes, a Dropbox folder, or a company-wide shared drive.
A Collaboration Suite that Unifies Your Virtual Work Space
Most projects are not limited to a single way of communicating and collaborating. A single project can include multiple streams of communication and collaboration including:
Emails
Instant messages and chats
Video conferences
Face-to-face-meetings
Whiteboarding and annotation
Meeting minutes
Document and screen sharing
Real-time document editing and co-authoring
Many of these conversations end when you walk out of the room or power down your laptop, but what if you could access that collaborative content whenever you needed it, no matter where you were and no matter what device you were using? Tools like COLLABORATE® Space are the next step in the evolution of unified communications. They let you both update, share, and store all your project-related content in the same place, and help you move your collaboration beyond just messaging your team members back and forth.

COLLABORATE Space takes messaging and document storage functionalities and combines them with best-in-class cloud-based audio and video conferencing to give you a complete team collaboration app. So instead of leaving your collaboration space to launch an audio or video call, you can move easily between chatting to document sharing to video conferencing all within the same project space. And since it all happens in the same place, it's all recorded in the same place meaning everything related to a single project—from notes to documents to meetings to video recordings—is centralized, easy to find, and easy to search.
A Collaboration Solution for Any Project
COLLABORATE Space makes team collaboration easier and more productive. Its intuitive interface can run on any device, including mobile, desktop, and all ClearOne COLLABORATE Live room systems. COLLABORATE Space can also be "white labeled" to match your brand. Additional features include:
Real-time and offline communication. Use chat for real-time conversations or leave messages that team members can read and respond to later.
On-premise and cloud-based hosting. Choose to deploy COLLABORATE Space on-premise or access through the cloud from any device, anywhere.
Public/private channels. Create public or private work spaces for your teams or projects where you can store all the data related to that project, including associated meetings.
Helping teams connect and collaborate has never been so easy. Sign up for a free 30-day trial of COLLABORATE Space and see for yourself.